Some Patients Using Fosamax Over the Long-Term May Be at Risk for One Type of Fracture
New Findings Reported by NewYork-Presbyterian/Weill Cornell Physician-Scientists
Jun 26, 2008
NEW YORK
There is new evidence linking risk for one kind of fracture with long-term use of bisphosphonates — drugs like Fosamax that are prescribed to treat osteoporosis in older persons by increasing bone density in order to prevent fractures.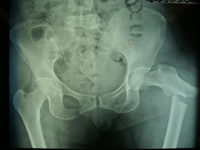 The findings are reported by Drs. Dean G. Lorich and Joseph M. Lane of NewYork-Presbyterian Hospital/Weill Cornell Medical Center in the latest issue of the Journal of Orthopaedic Trauma.
"While bisphosphonates like Fosamax have been proven to successfully treat osteoporosis and other metabolic bone disease, we believe long-term use of these drugs may suppress the ability of bones to heal in some patients. As a consequence, patients with routine stress fractures are unable to properly heal, and minor damage can worsen until a serious fracture occurs," says Dr. Lorich, the study's senior author. He is assistant professor of orthopaedic surgery at Weill Cornell Medical College and associate director of orthopaedic trauma surgery at NewYork-Presbyterian/Weill Cornell and the Hospital for Special Surgery.
The preliminary study followed 70 patients, 25 of whom were taking alendronate (Fosamax) for an average of five years. Among those receiving the therapy, 19 patients (76 percent) presented with one type of femoral stress fracture (simple, transverse) that resulted from little or no trauma. By comparison, the fracture type was only evident in one patient (2 percent) not receiving the therapy.
Furthermore, the average duration of alendronate use in those patients with the fracture pattern was significantly longer than in those who were not taking the therapy, at 6.9 years versus 2.5 years, respectively.
"While more research is necessary to confirm our results, physicians prescribing bisphosphonates for longer durations should monitor patients for indications of bone regeneration. In situations where a blood test reveals low bone turnover, a holiday from the bisphosphonates would be recommended until these markers return to an acceptable level," says Dr. Lane, the study's corresponding author. He is professor of orthopaedic surgery at Weill Cornell Medical College and an orthopaedic surgeon at NewYork-Presbyterian/Weill Cornell and the Hospital for Special Surgery.
Nearly one-third of older persons fall each year, and half of them fall more than once. Falls and fall-related injuries are among the most serious and common medical problems experienced by older adults, and many are associated with fractures. Fractures associated with the hip have been shown to have an extremely high morbidity and mortality rate in the geriatric population. Prevention is therefore critical, and evaluation and treatment for osteopenia and osteoporosis are strongly recommended by physicians to avoid the potentially devastating injuries associated with aging.
The study's first author is Dr. Andrew S. Neviaser, a resident at Hospital for Special Surgery. Co-authors include Dr. Folorunsho Edobor-Osula, research assistant at Hospital for Special Surgery; and Dr. Brett A. Lenart, a recent graduate of Weill Cornell Medical College.
Dr. Lane serves on Speaker's Bureaus for Novartis, Lilly, Proctor and Gamble, Sanofi-Aventis and Roche/GSK.
For more information, patients may call 866-NYP-NEWS.
NewYork-Presbyterian Hospital/Weill Cornell Medical Center
NewYork-Presbyterian Hospital/Weill Cornell Medical Center, located in New York City, is one of the leading academic medical centers in the world, comprising the teaching hospital NewYork-Presbyterian and Weill Cornell Medical College, the medical school of Cornell University. NewYork-Presbyterian/Weill Cornell provides state-of-the-art inpatient, ambulatory and preventive care in all areas of medicine, and is committed to excellence in patient care, education, research and community service. Weill Cornell physician-scientists have been responsible for many medical advances — from the development of the Pap test for cervical cancer to the synthesis of penicillin, the first successful embryo-biopsy pregnancy and birth in the U.S., the first clinical trial for gene therapy for Parkinson's disease, the first indication of bone marrow's critical role in tumor growth, and, most recently, the world's first successful use of deep brain stimulation to treat a minimally-conscious brain-injured patient. NewYork-Presbyterian, which is ranked sixth on the U.S.News & World Report list of top hospitals, also comprises NewYork-Presbyterian Hospital/Columbia University Medical Center, Morgan Stanley Children's Hospital of NewYork-Presbyterian, NewYork-Presbyterian Hospital/Westchester Division and NewYork-Presbyterian Hospital/The Allen Pavilion. Weill Cornell Medical College is the first U.S. medical college to offer a medical degree overseas and maintains a strong global presence in Austria, Brazil, Haiti, Tanzania, Turkey and Qatar. For more information, visit www.nyp.org and www.med.cornell.edu.