Journey to the Center of the Brain
NewYork-Presbyterian/Weill Cornell Study Demonstrates Minimally Invasive Endoscopic Surgery Can Safely Remove Deep Brain Tumors in Patients Without Hydrocephalus
Sep 28, 2005
NEW YORK
A research study by a NewYork-Presbyterian Hospital/Weill Cornell Medical Center neurosurgeon demonstrates that surgeons who use an endoscope to biopsy or resect intraventricular brain tumors in patients without hydrocephalus achieve equal if not better results than similar cases where hydrocephalus is present – demonstrating that the field of minimally invasive brain surgery is advancing.
Minimally invasive surgery, where possible, is generally preferred to open brain surgery because it is associated with less morbidity, less scarring, and shorter recovery time.
The study appears in the October issue of Operative Neurosurgery.
Using an endoscope to remove intraventricular brain tumors (tumors within the brain's ventricles or cavities) is seen as one of the most challenging aspects of neurosurgery because the ventricles are located near the center of the brain. And, in patients without hydrocephalus (swelling of the brain) the challenge is actually much greater because patients lack the enlarged ventricles that allow surgeons wider pathways to the tumor site and more room to operate once there.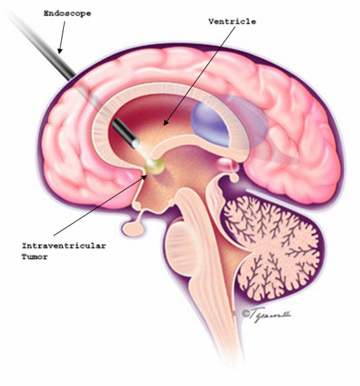 Only a few medical centers in the U.S. have surgeons with enough training to remove intraventricular brain tumors in patients with or without hydrocephalus, and most patients end up undergoing a traditional craniotomy – where a portion of the skull is removed in order to gain access to the brain – and enduring the greater risk, longer recovery times, and greater scarring the procedure involves.
"Our study demonstrates that minimally invasive brain surgery is gaining ground," says Dr. Mark Souweidane, the study's author and vice chairman of the department of neurological surgery and director of pediatric neurological surgery at NewYork-Presbyterian/Weill Cornell, and associate professor of clinical neurological surgery at Weill Cornell Medical College. "We know that endoscopic surgery is safer than opening a patient's brain – a craniotomy – and now, from our study, we know that even one of the most difficult types of endoscopic surgery – intraventricular tumors in patients without hydrocephalus – is becoming safer."
Dr. Souweidane hopes his study will encourage hospitals and neurosurgeons to invest in endoscopic training, and will encourage patients with brain tumors to ask questions and explore their surgical options.
With endoscopic surgery, after a small 14 mm hole is made in the skull for access, surgeons guide the endoscope, a slender catheter-like camera through the brain's normal fluid-filled compartments, which visually often looks like swimming through a soft coral reef. Surgeons watch the image on a nearby monitor, and when the tumor is located, the tools that will biopsy or resect are deployed through a 2 mm tunnel in the scope.
Because endoscopic surgery allows surgeons to reach the center of the brain without significant cutting of tissue or draining of intracranial fluid, which can cause the brain to "sag" away from the skull and bleed, the procedure is safer than traditional methods for operating upon intraventricular brain tumors.
In Dr. Souweidane's study, 80 patients at NewYork-Presbyterian/Weill Cornell who underwent endoscopic management for an intraventricular brain tumor were identified from a prospective database. Of these patients, 15 had an intraventricular tumor without concomitant hydrocephalus and underwent primary endoscopic surgery for biopsy or resection. The surgical technique, the success rate, and patient outcome were assessed and then compared with the 65 hydrocephalic patients who underwent similar procedures.
All patients in the study were treated between December 1995 and December 2004. Patients in the comparison group (with hydrocephalus), ranged in age from 3 months to 80 years, with the mean being 33.1 years. Thirty-six were male and 29 were female. In the study group (without hydrocephalus), patients ranged in age from 13 to 80 years, with the mean being 40.3 years. Eight were male and seven were female.
Of the 15 patients without hydrocephalus, 11 had tumors located in the third ventricle (direct center of brain) and four had tumors located in the lateral ventricle (slightly above the center and forward). In all 15 patients, the ventricular compartment was successfully cannulated (entered) and the intended goal was accomplished: 12 patients had successful diagnostic sampling (a biopsy), and three had complete resection of a colloid cyst. There were no operative complications related to the endoscopic procedure, nor were there any recognized neurological complications, seizures, or surgically related infections or deaths. No patient required subsequent intervention for hydrocephalus.
Dr. Souweidane is among several NewYork-Presbyterian/Weill Cornell surgeons in the department of neurological surgery who routinely perform endoscopic surgery on patients with intraventricular brain tumors.