Dr. Dean Lorich Awarded the 2010 Roger E. Joseph Prize for Humanitarian Efforts
Honored for the Treatment of Victims of Haiti Earthquake and Injured Soldiers From Middle East Conflicts
May 28, 2010
NEW YORK
Dr. Dean Lorich was honored with the 2010 Roger E. Joseph Prize by Hebrew Union College for his humanitarian efforts in treating victims of the recent Haiti earthquake and in Landstuhl, Germany treating soldiers injured in Iraq and in Afghanistan. The award recognizes individuals making lasting contributions to the causes of human rights.
Dr. Lorich received the $10,000 prize at Temple Emanu-El in New York City, during Hebrew Union College's recent "Service of Investiture and Ordination," honoring the 2010 graduates being ordained as cantors and rabbis. The award was given to further Dr. Lorich's medical work in Haiti.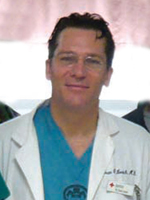 "I am humbled to receive such a prestigious award and to be considered amongst the same company as the past recipients," says Dr. Lorich, the associate director of the orthopedic trauma service at NewYork-Presbyterian Hospital/Weill Cornell Medical Center and the Hospital for Special Surgery. "The award will help bring assistance to the people of Haiti, who must cope with the trauma of the earthquake for some time to come."
During his acceptance speech, Dr. Lorich spoke about his trip to Port-au-Prince, Haiti, along with 12 other physicians, surgeons and nurses, with the goal of helping the thousands of victims of the devastating earthquake. Dr. Lorich was accompanied by Dr. David Helfet, director of the orthopedic trauma service at New York-Presbyterian Hospital/Weill Cornell Medical Center and Dr. Soumitra Eachempati, a trauma surgeon at New York-Presbyterian Hospital/Weill Cornell Medical Center. Dr. Lorich spoke about the team's selfless efforts and the "Civil War" medicine they practiced in the ruins of a Haitian hospital.
The team worked nonstop for many sleepless days and without the use of an anesthesiology machine, a reserve blood supply for transfusions, or oxygen tanks, among other modern instruments that are commonplace in operating rooms across the United States. During this time, he and his colleagues helped to save hundreds of lives by performing basic surgeries, radical limb amputations, and Caesarian section deliveries.
Dr. Lorich also spoke about his travels, in 2007, to Landstuhl Regional Medical Center near the Ramstein Air Force Base in Germany, where for over two weeks he helped the medical staff there treat American soldiers wounded from the wars in Iraq and Afghanistan. He spoke about the severe injuries he encountered, unlike what most doctors see in civilian medical practice.
Dr. Lorich, an associate professor of orthopedic surgery at Weill Cornell Medical College, specializes in acute fracture care of upper and lower extremities.  Dr. Lorich is actively involved in orthopaedic research, lecturing nationally and internationally. His areas of interest include hip, shoulder and ankle fractures, and geriatric fractures. Dr. Lorich published a study in the Journal of Orthopaedic Trauma on the effects of long-term Fosamax use on bones. After completing his residency at The University Hospital of Pennsylvania in 1995, Dr. Lorich completed a fellowship in Orthopaedic Trauma at the Hospital for Special Surgery in 1996. Dr. Lorich was selected to be the prestigious Martin Allgower Traveling Trauma Fellow under Rheinhold Ganz, MD, in Bern, Switzerland.
About the Roger E. Joseph Prize
The Roger E. Joseph Prize was established 30 years ago by a generous gift from Burton M. Joseph and his sister, Mrs. Betty Greenberg, in memory of their brother, a lawyer, World War II hero, and polio victim. Although almost completely paralyzed, Roger E. Joseph resumed his law practice and advanced causes of social justice, inspired by his own exceptional personal courage and passionate devotion to principle and justice. The first Joseph Prize was awarded in 1978 to Victor Kugler, who risked his and his loved ones' lives to shelter Anne Frank and her family. Others who have received the prize include Rosa Parks, the "mother" of the American civil rights movement; Helen Suzman, a leader of the anti-apartheid movement in South Africa; and journalist Daniel Pearl, posthumously, and the Daniel Pearl Foundation.
NewYork-Presbyterian Hospital/Weill Cornell Medical Center
NewYork-Presbyterian Hospital/Weill Cornell Medical Center, located in New York City, is one of the leading academic medical centers in the world, comprising the teaching hospital NewYork-Presbyterian and Weill Cornell Medical College, the medical school of Cornell University. NewYork-Presbyterian/Weill Cornell provides state-of-the-art inpatient, ambulatory and preventive care in all areas of medicine, and is committed to excellence in patient care, education, research and community service. Weill Cornell physician-scientists have been responsible for many medical advances — including the development of the Pap test for cervical cancer; the synthesis of penicillin; the first successful embryo-biopsy pregnancy and birth in the U.S.; the first clinical trial for gene therapy for Parkinson's disease; the first indication of bone marrow's critical role in tumor growth; and, most recently, the world's first successful use of deep brain stimulation to treat a minimally conscious brain-injured patient. NewYork-Presbyterian Hospital also comprises NewYork-Presbyterian Hospital/Columbia University Medical Center, NewYork-Presbyterian/Morgan Stanley Children's Hospital, NewYork-Presbyterian Hospital/Westchester Division and NewYork-Presbyterian/The Allen Hospital. NewYork-Presbyterian is the #1 hospital in the New York metropolitan area and is consistently ranked among the best academic medical institutions in the nation, according to U.S.News & World Report. Weill Cornell Medical College is the first U.S. medical college to offer a medical degree overseas and maintains a strong global presence in Austria, Brazil, Haiti, Tanzania, Turkey and Qatar. For more information, visit www.nyp.org and www.med.cornell.edu.