Woman-to-Woman: There Is an Easy Road to Heart Disease Prevention
Drs. Holly Andersen and Jennifer Haythe Take the Stress out of Heart Health
Jan 31, 2013
NEW YORK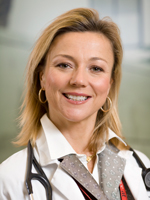 Every minute a woman dies from heart disease in the United States, and more than 90 percent of women in America are at risk, according to the American Heart Association, but prevention can be as easy as a walk in the park.
"With our busy lifestyles it is easy for women to focus on the obstacles to living a heart-healthy lifestyle, but there are many simple activities we can commit to that will uplift our spirits, decrease stress and improve our overall heart health," says Dr. Holly Andersen, director of education and outreach at the Ronald O. Perelman Heart Institute at NewYork-Presbyterian Hospital/Weill Cornell Medical Center.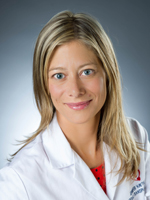 Dr. Jennifer Haythe, a cardiologist with a specialty in cardiac care during pregnancy at the Center for Advanced Cardiac Care at NewYork-Presbyterian Hospital/Columbia University Medical Center says, "Pregnancy is rarely associated with heart disease. However, more women are starting motherhood at a later age, and their risk factors during pregnancy may include diabetes, hypertension and pre-existing heart disease."
Below is a roadmap for living a heart-healthy lifestyle, during pregnancy and beyond:
Laugh. Laughter just may be the best medicine. Studies have found that 15 minutes of laughter is as heart healthy as 30 minutes of aerobic activity.
Enjoy a piece of chocolate. Chocolate, especially dark chocolate, is full of antioxidants called flavonoids. Eating small amounts of chocolate regularly has been linked to improved mood, blood pressure, circulation, body weight, and a reduction in stroke risk and developing diabetes.
Turn up the music. Listening to music that you enjoy has been shown to improve circulation and breathing capacity, in addition to your mood.
Take a deep breath. Slow, deep breathing calms the mind, reduces stress and actually gives you energy.
Take a vacation every day. Do not wait for time off from your everyday life to enjoy your life. Take a little time every day to do something just for you: a walk in the park, a bubble bath, a phone conversation with an old friend, indulging in a favorite magazine or getting a massage.
Enjoy intimacy. The human touch can be very uplifting and healing. Sex is healthy, but so is a hug and holding someone's hand.
Pregnancy Heart Health:
Know your risk factors. Four percent of women with no pre-existing heart conditions are affected by heart disease during pregnancy.
Manage your pre-existing health issues. If you are already managing one of the three major risk factors for heart disease — diabetes, hypertension and obesity/overweight — it is critical you control them throughout your pregnancy.
Consult a cardiologist. You should consult with an obstetrician and a cardiologist throughout your entire pregnancy if you have heart disease or any symptoms of a cardiac health problem.
Take a walk. A walking program designed by your obstetrician may just be the easiest way to stay fit and heart healthy during throughout your pregnancy.
NewYork-Presbyterian Hospital
NewYork-Presbyterian Hospital, based in New York City, is the nation's largest not-for-profit, non-sectarian hospital, with 2,409 beds. The Hospital has nearly 2 million inpatient and outpatient visits in a year, including 12,797 deliveries and 195,294 visits to its emergency departments. NewYork-Presbyterian's 6,144 affiliated physicians and 19,376 staff provide state-of-the-art inpatient, ambulatory and preventive care in all areas of medicine at five major centers: NewYork-Presbyterian Hospital/Weill Cornell Medical Center, NewYork-Presbyterian Hospital/Columbia University Medical Center, NewYork-Presbyterian/Morgan Stanley Children's Hospital, NewYork-Presbyterian/The Allen Hospital and NewYork-Presbyterian Hospital/Westchester Division. One of the most comprehensive health care institutions in the world, the Hospital is committed to excellence in patient care, research, education and community service. NewYork-Presbyterian is the #1 hospital in the New York metropolitan area and is consistently ranked among the best academic medical institutions in the nation, according to U.S.News & World Report. The Hospital has academic affiliations with two of the nation's leading medical colleges: Weill Cornell Medical College and Columbia University College of Physicians and Surgeons.