The Ultimate Rx Guide for High Blood Pressure: New Book Offers News You Can Use on Managing Hypertension
New Book Challenges Current Medical Approach to High Blood Pressure
Sep 19, 2012
NEW YORK
Blood pressure medications are currently failing millions of Americans, who continue to battle hypertension and remain at increased risk for heart attack and stroke.
Dr. Samuel J. Mann, a nationally-known hypertension specialist at NewYork-Presbyterian Hospital/Weill Cornell Medical Center and professor of clinical medicine at Weill Cornell Medical College, is the author of a new book "Hypertension and You: Old Drugs, New Drugs and the Right Drugs for Your High Blood Pressure."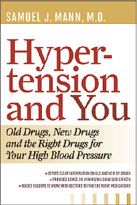 This is one of the first books for the lay public that empowers readers to question their health care providers about their drug regimens, and seeks to help millions of Americans who are taking blood pressure medication to control their blood pressure and avoid side effects.
"Despite their best intentions many physicians continue to place their hypertensive patients on blood pressure medications, drug combinations or doses that may not be the best treatment available to them, says Dr. Mann. "I believe that with the medications we have, we can do much better than we are doing. My goal in writing this book is to explain the shortcomings of current treatment approaches, and present new and better approaches that can help to improve blood pressure control, reduce side effects of medications and lower health care costs."
Key points in the book include:
Measuring your blood pressure. The incorrect measurement of blood pressure at the doctor's office and at home is responsible for millions of people being on more medication than they need.
Diuretics. These medications are effective and inexpensive but are widely underused and underdosed, resulting in inadequate blood pressure control, unneeded multi-drug regimens and avoidable costs.
Dangers of beta-blockers. These drugs are responsible for an epidemic of fatigue and, in some cases, can also cause cognitive impairment. Ironically, in many cases, the patient does not even need to be on a beta-blocker!
Psychological factors. Hypertension linked to psychological factors responds to a different set of blood pressure drugs than other cases of hypertension.
Old drugs vs. new drugs. Some widely selling new drugs are not very good. Some fabulous old drugs are nearly forgotten and remain underused.
Samuel J. Mann, M.D., is a hypertension specialist at NewYork-Presbyterian Hospital/Weill Cornell Medical Center and professor of clinical medicine at Weill Cornell Medical College. He has written more than 50 scientific articles and book chapters about hypertension. He has commented on medical news related to hypertension on major network television stations. His work has been featured in many newspapers and magazines including The New York Times, Newsday, Glamour, Longevity, and Bottom Line Health.
For more information, patients may call 866-NYP-NEWS.
NewYork-Presbyterian Hospital/Weill Cornell Medical Center
NewYork-Presbyterian Hospital/Weill Cornell Medical Center, located in New York City, is one of the leading academic medical centers in the world, comprising the teaching hospital NewYork-Presbyterian and Weill Cornell Medical College, the medical school of Cornell University. NewYork-Presbyterian/Weill Cornell provides state-of-the-art inpatient, ambulatory and preventive care in all areas of medicine, and is committed to excellence in patient care, education, research and community service. Weill Cornell physician-scientists have been responsible for many medical advances - including the development of the Pap test for cervical cancer; the synthesis of penicillin; the first successful embryo-biopsy pregnancy and birth in the U.S.; the first clinical trial for gene therapy for Parkinson's disease; the first indication of bone marrow's critical role in tumor growth; and, most recently, the world's first successful use of deep brain stimulation to treat a minimally conscious brain-injured patient. NewYork-Presbyterian Hospital also comprises NewYork-Presbyterian Hospital/Columbia University Medical Center, NewYork-Presbyterian/Morgan Stanley Children's Hospital, NewYork-Presbyterian Hospital/Westchester Division and NewYork-Presbyterian/The Allen Hospital. NewYork-Presbyterian is the #1 hospital in the New York metropolitan area and is consistently ranked among the best academic medical institutions in the nation, according to U.S.News & World Report. Weill Cornell Medical College is the first U.S. medical college to offer a medical degree overseas and maintains a strong global presence in Austria, Brazil, Haiti, Tanzania, Turkey and Qatar. For more information, visit www.nyp.org and weill.cornell.edu.