Teens Successfully Perform "Candy Surgery" Using NYC's First Updated Robotic Surgical System
daVinci Surgical System To Be Used for Prostate and Kidney Surgery at NewYork-Presbyterian Hospital/Columbia Beginning on Jan. 18
Jan 14, 2008
NEW YORK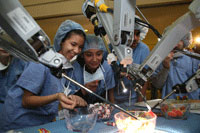 More than a dozen students enrolled in NewYork-Presbyterian Hospital's Lang Youth Medical Program were among the first New Yorkers to test the capabilities of a new robotic surgical machine today. The students manipulated the arms of the da Vinci® S™ HD System to move, unwrap and sort candies. The students also named the system, dubbing it "The LS Machine" after their Lang Youth Scholar status.
On Friday, Jan. 18, the second-generation surgical robot with the new HD System will allow NewYork-Presbyterian surgeons to perform the first prostate and kidney procedures using high-definition 3-D video, giving them improved clarity and detail.
The Lang Youth Medical Program of Morgan Stanley Children's Hospital of NewYork-Presbyterian is a six-year science education and mentoring program. Its mission is to inspire, support and motivate young people to realize their college and career aspirations, especially in health sciences. Classes are led by health professionals, educators, medical students and college students. Students go on medical rounds, observe surgeries and take part in dissections with lessons held in classrooms, labs and various clinical settings in the Hospital.
The Lang Youth Medical Program was founded by philanthropist Eugene M. Lang to address the lack of representation by underserved populations in medicine and the sciences. The program, which began in 2003, also offers mentoring, internships and tuition assistance for college.
NewYork-Presbyterian Hospital/Columbia University Medical Center
NewYork-Presbyterian Hospital/Columbia University Medical Center, located in New York City, is one of the leading academic medical centers in the world, comprising the teaching hospital NewYork-Presbyterian and its academic partner, Columbia University College of Physicians and Surgeons. NewYork-Presbyterian/Columbia provides state-of-the-art inpatient, ambulatory and preventive care in all areas of medicine, and is committed to excellence in patient care, research, education and community service. NewYork-Presbyterian, which is among U.S.News & World Report's top 10 hospitals nationally, also comprises NewYork-Presbyterian Hospital/Weill Cornell Medical Center and its academic affiliate, Weill Cornell Medical College.