Ronald O. Perelman Heart Institute of NewYork-Presbyterian Hospital/Weill Cornell Medical Center Opens as a Center for Innovative, World-Class Cardiac Care and Patient Education
Mayor Michael Bloomberg & Former Patient David Letterman on Hand to Unveil Patient-Focused Center for the Prevention, Diagnosis & Treatment of Heart Disease<br><br>Dramatic Gateway Designed by Pei Cobb Freed & Partners Creates a "Medical Town Square"
Sep 14, 2009
NEW YORK
Mayor Michael Bloomberg and David Letterman joined Ronald O. Perelman, chairman of MacAndrews & Forbes Holdings, Inc., and NewYork-Presbyterian Hospital President and CEO Dr. Herbert Pardes at a ceremony today officially opening the new Ronald O. Perelman Heart Institute at NewYork-Presbyterian Hospital/Weill Cornell Medical Center, an innovative center offering comprehensive, world-class cardiovascular care and heart health education to New Yorkers and patients from around the globe.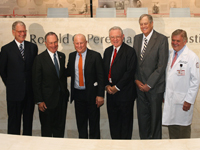 The Ronald O. Perelman Heart Institute, made possible by a gift from Mr. Perelman, who is also a member of the Board of Trustees of NewYork-Presbyterian Hospital, expands upon the Hospital's cardiac care expertise and connects all cardiac services, from heart disease prevention to the treatment of life-threatening arrhythmias and complex coronary artery disease. It provides patients with access to the very latest technology and treatment options, including leading-edge, minimally-invasive surgical procedures, new medications and clinical trials.
The gateway to the Perelman Heart Institute, a dramatic, new five-story public atrium in the Hospital's Greenberg Pavilion, functions as a "medical town square" complete with a patient-friendly welcome center, a clinical trials enrollment center, and an interactive education resource center that includes the latest medical information on heart disease. Medical concierge staff provides up-to-the-minute information on patient status as well as beepers for family members, allowing them to keep in touch even if they step away from the Institute. The public space was designed by the architecture firm Pei Cobb Freed & Partners. Patients will also be able to access the Perelman Heart Institute via the Internet from the comfort of their own home to find physicians, make appointments, learn about clinical trials and get up-to-date information on the latest innovations in cardiovascular health. Although women are twice as likely as men to die after suffering a heart attack, until recently cardiovascular health was primarily considered a man's issue. As a result, women are much less likely to seek treatment when they experience a cardiac incident, often because they fail to identify the symptoms until it is too late. The Perelman Heart Institute will bridge this gender gap in information and outcome. Outreach to women will be a particular focus of the Hospital's ongoing efforts to educate the community about preventative measures against this deadly disease.
"I am pleased that the opening of this state-of-the-art Institute at NewYork-Presbyterian/Weill Cornell will result in even better cardiac care for patients today and in the future," said Mr. Perelman. "Especially important is the Institute's focus on women's health — doing more, through education, to prevent women from developing heart disease and, when necessary, ensuring that they receive the finest available care. It is critical that women's heart health issues receive the attention and resources they deserve."
"Ron Perelman's remarkable gift is allowing our highly skilled physicians and researchers to build on an already strong foundation, establishing new standards of quality care and a new concept of what is possible for patients and their families," said Dr. Pardes. "The Institute is led by a stellar medical team, who have an international reputation of performing cutting edge surgery and cardiological care, upholding the most exacting standards for the benefit of our patients. They are poised to train the next generation of heart specialists and explore new boundaries in medicine."
The Heart Institute will be led by O. Wayne Isom, M.D., chairman and Terry Allen Kramer Professor of Cardiothoracic Surgery and Cardiothoracic Surgeon-in-Chief, and Bruce Lerman, M.D., H. Altschul Master Professor of Medicine, Chief of the Division of Cardiology and Cardiologist-in-Chief. Over his career of 30 years, Dr. Isom has been instrumental in training over 50 cardiothoracic surgeons, and under his supervision, the cardiothoracic surgeons at NewYork Presbyterian-Weill Cornell have performed almost 30,000 procedures with some of the best results in the country. Dr. Lerman serves as Director of the Electrophysiology Laboratory, is a recipient of an Established Investigator's Award from the American Heart Association and has been awarded NIH grants for his study of the cellular and molecular mechanisms of right ventricular tachycardia.
Dr. Holly Andersen, assistant professor of medicine and assistant attending physician and a leading authority on preventive cardiology, serves as the Institute's Director of Education and Outreach, overseeing patient education, community outreach and preventive efforts with the goal of raising awareness about the risks of heart disease and helping people adopt healthier lifestyles through education.
NewYork-Presbyterian Hospital's cardiology and cardiac surgery program consistently ranks among the top ten in the country according to U.S.News & World Report "America's Best Hospitals" survey, and has among the lowest mortality rates in the nation for patients diagnosed with heart failure and heart attack. Interventional cardiologists and cardiothoracic surgeons at the hospital are helping lead the PARTNER trial, the world's only randomized controlled study of a transcatheter aortic heart valve. This innovative approach replaces patients' heart valves without open heart surgery and has the potential to save thousands of lives of patients with no other therapeutic options.
Last year, it was announced that Mr. Perelman, chairman of MacAndrews & Forbes Holdings Inc., had made a $50 million gift to the Medical Center to be equally divided between NewYork-Presbyterian Hospital and Weill Cornell Medical College, in support of health care in New York City and around the world.
For more information on the Ronald O. Perelman Heart Institute, visit www.nypheart.org/perelman.
NewYork-Presbyterian Hospital/Weill Cornell Medical Center
NewYork-Presbyterian Hospital/Weill Cornell Medical Center, located in New York City, is one of the leading academic medical centers in the world, comprising the teaching hospital NewYork-Presbyterian Hospital, and Weill Cornell Medical College, the medical school of Cornell University. NewYork-Presbyterian/Weill Cornell provides state-of-the-art inpatient, ambulatory and preventive care in all areas of medicine, and is committed to excellence in patient care, education, research and community service. NewYork-Presbyterian/Weill Cornell physician-scientists have been responsible for many medical advances — from the development of the Pap test for cervical cancer to the synthesis of penicillin, the first successful embryo-biopsy pregnancy and birth in the U.S., the first clinical trial for gene therapy for Parkinson's disease, the first indication of bone marrow's critical role in tumor growth, and, most recently, the world's first successful use of deep brain stimulation to treat a minimally conscious brain-injured patient. NewYork-Presbyterian, which is sixth on the U.S. News & World Report's 2007 list of top hospitals, consistently ranks as one of the top hospitals in the country. Weill Cornell Medical College — in its commitment to global health and education — has a strong presence in the countries of Qatar, Tanzania, Haiti, Brazil, Austria and Turkey. Weill Cornell Medical College in Qatar is the first U.S. medical college to offer its medical degree overseas. For more information, visit www.nyp.org and www.med.cornell.edu.