Morgan Stanley Children's Hospital Performs Transcatheter Pulmonary Valve Replacement
Device Designed to Improve Quality of Life for Pediatric and Adult Patients with Common Congenital Heart Defect<br/><br/>Hospital Is One of Only Three Sites Nationally Offering Novel Interventional Cardiology Procedure
Aug 21, 2007
NEW YORK
A breakthrough new procedure may improve quality of life for children and adults with a common type of congenital heart defect that interferes with the body's ability to oxygenate blood through the lungs.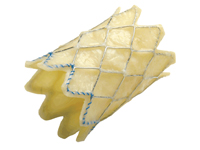 The minimally invasive procedure, which involves the implantation of the first-ever catheter-based pulmonary valve replacement, is currently performed by interventional cardiologists at Morgan Stanley Children's Hospital of NewYork-Presbyterian and Columbia University Medical Center – the only New York City site and one of only three sites nationally that is offering the procedure as part of an ongoing clinical research trial.
Currently, babies with absent or defective pulmonary valves may require open-heart surgery to implant a valved-conduit (a two-inch tube with a valve inside) to open the connection between their right ventricle and pulmonary artery. But because the conduit's lifespan is limited by deterioration and patient growth, traditionally the invasive surgery must be repeated several times as the patient grows older.
The new transcatheter pulmonary valve (TPV) is designed to extend the lifespan of the conduit by improving the natural function of the patient's heart. The goal is to reduce the need for multiple open-heart surgeries.
"This unique and innovative procedure allows us to replace the patient's heart valve by threading the device through a vein in their leg and into their heart. Previous research has shown that these patients can expect a reduced need for potentially risky open-heart surgery – and therefore improved quality of life," Dr. Hellenbrand explains.
The TPV device is currently only available in the research context to patients whose implanted valved-conduit has shown signs of narrowing and/or severe leakage. It is estimated that between 500 and 1,000 patients in the U.S. meet this criteria in a given year.
To date, 32 patients have been successfully implanted in the U.S., including 11 at Morgan Stanley Children's Hospital. In addition, nearly 300 patients have been successfully implanted with the device in Europe and Canada, where it has been approved for widespread use.
The initial feasibility study is sponsored by Medtronic, Inc. CardioVascular Business Unit of Minneapolis, Minn., makers of the Melody™ Transcatheter Pulmonary Valve (TPV) and Ensemble™ Transcatheter Delivery System used in the procedure. The study will look at the effectiveness of the procedure using echocardiography, chest radiography, fluoroscopy, cardiac MRI and other measures.
According to the American Heart Association (AHA), more than 25,000 U.S. babies are born each year with a congenital heart defect. Approximately 22 percent, or 4,800, of these babies born with congenital heart disease have defects disrupting the blood flow from the right ventricle to the pulmonary artery. For patients with this condition, their heart over-exerts itself trying to get oxygenated blood throughout the body. Additionally, they are at risk for arrhythmias and sudden death.
As part of a comprehensive interventional cardiology program, Morgan Stanley Children's Hospital offers a complete range of treatments for congenital heart conditions including atrial septal defects (ASD), ventricular septal defects (VSD), aortic stenosis (AS), patent ductus arteriosus (PDA), pulmonary atresia (PA) and more.
Morgan Stanley Children's Hospital of NewYork-Presbyterian
Ranked by U.S.News & World Report as one of the top six children's hospitals in the country, Morgan Stanley Children's Hospital of NewYork-Presbyterian offers the best available care in every area of pediatrics – including the most complex neonatal and critical care, and all areas of pediatric subspecialties – in a family-friendly and technologically advanced setting. Building a reputation for more than a century as one of the nation's premier children's hospitals, Morgan Stanley Children's Hospital of NewYork-Presbyterian is affiliated with Columbia University College of Physicians and Surgeons, and is New York City's only hospital dedicated solely to the care of children and the largest provider of children's health services in the tri-state area with a long-standing commitment to its community. Morgan Stanley Children's Hospital of NewYork-Presbyterian is also a major international referral center, meeting the special needs of children from infancy through adolescence worldwide.
Columbia University Medical Center
Columbia University Medical Center provides international leadership in pre-clinical and clinical research, in medical and health sciences education, and in patient care. The medical center trains future leaders and includes the dedicated work of many physicians, scientists, nurses, dentists and public health professionals at the College of Physicians and Surgeons, the Mailman School of Public Health, the College of Dental Medicine, the School of Nursing, the biomedical departments of the Graduate School of Arts and Sciences, and allied research centers and institutions. For more information, visit www.cumc.columbia.edu.