Charitable Lead Trust
The charitable lead trust allows you to make a future transfer of assets to your heirs at a substantially reduced gift and estate tax cost, while providing an income stream to the NewYork-Presbyterian Hospital for a term of years. During a specified number of years, a fixed or variable income is paid to the Hospital, depending on the type of trust you create. You may designate your desired area of support within the Hospital.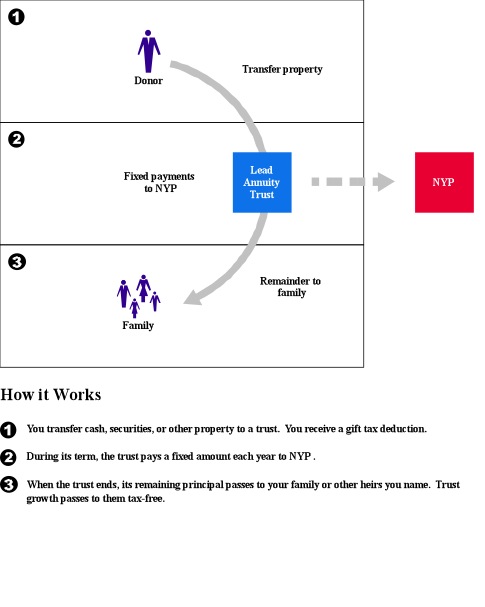 How You Can Save Taxes
You receive a charitable gift tax deduction for the present value of the annual income payments to the Hospital during the trust term. This deduction may significantly reduce your gift and estate tax liability on the transfer to your heirs. Furthermore, any appreciation of the trust assets over the trust term is not subject to gift or estate tax. Although the Tax Relief Act of 2001 may impact the long-term application of lead trusts, this type of gift arrangement may continue to have value as a planning tool.
At the end of the trust term, the assets are passed to your heirs, or to a trust for their benefit.
How You Can Establish a Charitable Lead Trust
You can establish a charitable lead trust with publicly traded securities, closely held stock, income-producing real estate, partnership interests or a combination of the above. To receive the most favorable capital gains tax treatment, you may wish to fund the trust with cash or other assets that are not highly appreciated. Typically, a lead trust is most effective for high-net-worth individuals who wish to fund the trust with assets valued at $500,000 or more.
Note: as you consider any charitable gift plan, please consult with your tax or financial advisor to determine the tax/financial implications for you and your family.
Calculate the benefits of a Charitable Lead Trust
Top of page