Charitable Gift Annuity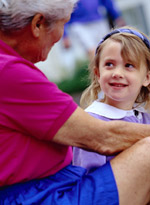 A charitable gift annuity is a simple agreement between you and NewYork-Presbyterian Hospital.
The Type of Income You Receive
A NewYork-Presbyterian gift annuity pays you and/or another beneficiary a fixed annual income (in quarterly installments) for life. Part of your income may be tax-free, increasing the overall return to you, or taxed at the more favorable capital gains rate. Your annuity income payments are backed by the assets of NewYork-Presbyterian.
With an immediate payment annuity, your quarterly income payments begin right away. With a deferred gift annuity, your income payments begin at a future date that you specify. Because payments are deferred, you receive a higher annual income, which may be used as a source of guaranteed retirement income.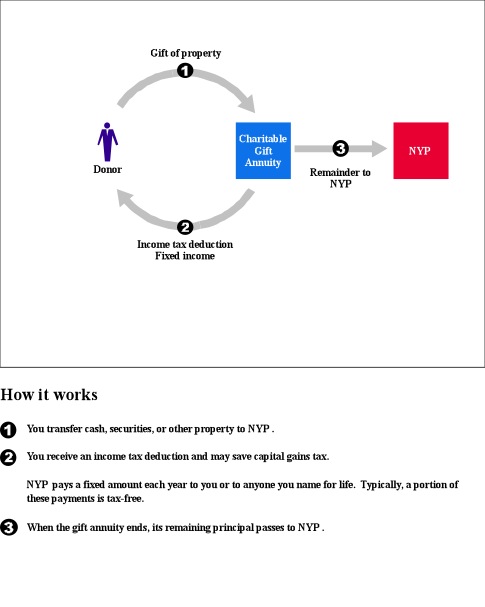 Current Charitable Gift Annuity Rates
Here is a sample of the current rates for single-life gift annuities.
65 years old

4.7%

70 years old

5.1%

75 years old

5.8%
80 years old

6.8%

85 years old

7.8%

90 years old

9.0%
Calculate the amount you would receive from your annuity.
How You Can Save Taxes
When you establish an annuity, you are entitled to an immediate Federal income tax deduction for a portion of your gift. Your deduction is based on the size of your contribution, the annuity payment rate and the age(s) of your income beneficiary(ies). With a deferred arrangement, you receive a higher immediate income tax deduction.
With a gift of appreciated property, you can significantly reduce long term capital gains taxes. You can also realize significant estate tax savings.
How You Can Establish Your Own Gift Annuity
Typically, a gift annuity is established with an irrevocable gift of cash or marketable securities. The minimum contribution required is $10,000, and income beneficiaries for both immediate and deferred annuities must be at least 60 years old when payments begin. Your annuity is administered by The Bank of New York Mellon at no cost to you, and you may designate the future use of your gift at the Hospital.
Calculate the benefits of a Charitable Gift Annuity.
Top of page