Research and Clinical Trials
Bequests
How It Works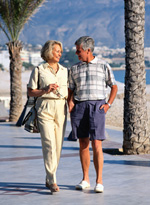 You can make a bequest to the Hospital by creating a new will, adding a codicil to your current will, designating the Hospital as a beneficiary of your retirement plan or including the Hospital in your revocable trust or other estate plan. If you would like to include a bequest in your charitable gift plan you might consider the following alternatives:
Cash bequest - The Hospital receives a specific dollar amount.
Bequest of property - The Hospital receives specific assets, such as securities, an interest in real estate (such as a residence) or tangible personal property (e.g., artwork, antiques, coins).
Residuary bequest - The Hospital receives all or a percentage of the remainder of your estate after the payment of specific bequests and estate-related expenses.
Testamentary trust - Your trust provides one or more heirs with income for life a term of years or both, after which the assets pass to NewYork-Presbyterian Hospital.
Retirement plan - The Hospital is designated as a beneficiary of your IRA, Keogh, tax-sheltered annuity, qualified pension or profit-sharing plan. [Read more]
Testamentary QTIP trust - Your trust provides income, and principal if needed, to your spouse for life, after which the assets pass to the Hospital.
Contingent bequest - The hospital is given a bequest only in the event of the death of other beneficiaries.
How you save taxes
The Tax Relief Act of 2001 has provided for the ultimate elimination of the federal estate tax. This may permit you to fund a more substantial bequest to support the research and treatment that are of greatest interest to you and your family.
A bequest is currently deductible for Federal estate tax purposes, and there is no limit on the amount of the estate tax charitable deduction. In addition, bequests generally are not subject to state inheritance or estate taxes. In a large estate, the savings currently may be more than half of the value of the bequest to NewYork-Presbyterian.
Bequest Language
The following example of bequest language may be tailored to suit your interests:
"I give, devise and bequeath to NewYork-Presbyterian Fund, Inc., a Corporation created under the New York State Not-for-Profit Corporation Law and located in New York City, New York, $__________ [or % or description of asset] to be used for the general corporate purposes of NewYork-Presbyterian Hospital as its Board of Trustees shall determine."
Please note that NewYork-Presbyterian Fund, Inc. is the entity to which we ask that all donations to the Hospital be made. The Tax ID# for NewYork-Presbyterian Fund, Inc. is 13-3160356.
Note: as you consider any charitable gift plan, please consult with your tax or financial advisor to determine the tax/financial implications for you and your family.
Calculate the benefits of your gift.
Top of page